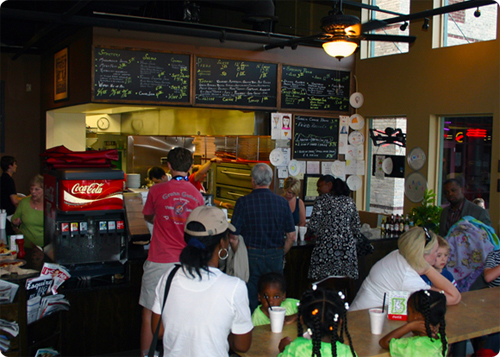 Authentic NY pizza since 1945
Fresh ingredients
Subs, calzones, salads, wings
Romeo's Pizza in John's Creek is not one of those pizza joints who lures you in by claiming to have authentic NY pizza and then you quickly find out it's not even in the same ballpark. Romeo's, born and raised in Paterson, New Jersey, has been making authentic NY pizza since 1945. We won't disappoint you.
No soggy crusted pizza or watered down pizza sauce. Everything we do is fresh and completely from scratch. Romeo's uses the finest cheese and makes all their dough in house.
This pizzeria loves pizza and, therefore, their pizza has to be the best. Bring some friends, combine a slice with our wings, salads, philly steak subs, or calzones, and everyone is in for a top-notch New York style lunch or dinner.
Romeo's NY Pizza has many different locations throughout Georgia, one of which is located next door to the Regal 18 screen theater in John's Creek, so come grab a slice before or after your movie. This makes for a great weekend outing with friends.
You won't be disappointed.